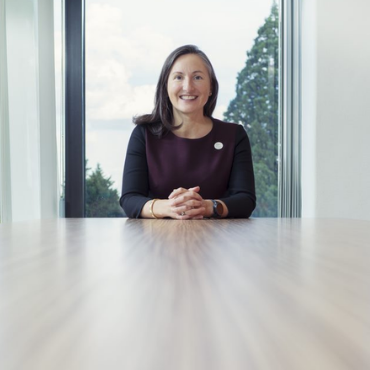 Diversity plays a key role in the transition to a clean energy society. However, the International Renewable Energy Agency (IRENA) indicated that women make up only a third of the workforce in the renewable energy sector, something that was also evident at COP26 where about 80% of the heads of delegation were men. Although progress has been made to increase women's participation, women are still underrepresented in the energy transition. What is it like for a woman to have a leadership position in the energy transition? What drives these top executives and how do they see the future when it comes to diversity? Caroline Stancell, General Manager at Air Products for Hydrogen for Mobility Europe and Africa, encourages everyone to "get involved in the debates about the energy transition, what new innovations we can bring and changes we adopt."
Interviewer: How did you end up in the chemical industry and in particular hydrogen for mobility?

Caroline
:
When I grew up, I really liked maths and science, and I had a very inspiring chemistry teacher, which always helps. It seemed logical to me to choose a study in this direction and I decided to study chemical engineering. But, if I'm quite honest, without knowing much about what it actually entailed. Eventually I ended up working in the chemical industry and the choice for studying chemical engineering has proven to be quite an inspired one. Think about the things you can be involved in with this background, like the challenges we face in the climate crisis. Chemistry, engineering and science offers so much room for innovation to really make a difference to the world with solutions that matter.

You went to the Massachusetts Institute of Technology in 1984 to study chemical engineering. Was that a common choice for women?

C:
Engineering was not common for women at that time. When I started, only 18% of the students were women. It was a totally different choice to make and I thoroughly enjoyed it. It was a big transition from a gender-balanced high school to a male-dominated environment and at first it was a little bit intimidating, but everybody was nice. If I look back on it, I think it served me very well because the workforce I entered later was also male dominated, but by then I knew how to handle it. I did proactively search for female friendships, because I was missing this aspect in my life since leaving high school, and joined a sorority. This gave me a support group, female connection within the predominantly male environment and great friends up until now.
There was a phase in my life during my education, where I thought: this is really quite technical, 'industrial' and I'm not sure this is what I want to do. I spent some time thinking about moving into consulting or banking and I got a business degree. But ultimately, I felt that I wanted to be involved in creating something, producing something for society. That motivation is now directed at realizing the transition to a cleaner energy future.


You are now in a senior position within Air Products, and you're helping the younger generation of engineers that come into the organization and the industry. How can you use your experiences to help them grow and develop?

C:
I try to be a good mentor and set a good example to make the younger generation comfortable and give them the confidence to speak. But things have changed a lot in the meantime, so my experiences are not necessarily always relevant to them. They look at things from a different perspective and with different expectations. For example, they expect a much more equal environment than when I started. That is good, because it challenges us. That said, Air Products is a wonderful company to work for, it's a company that really cherishes diversity and wants to encourage all employees to feel at home, to feel comfortable and to make themselves heard. Women, people with different backgrounds and minorities bring an essential different perspective on what it takes to make change happen.
Diversity breeds innovation and collaboration, which is important in the energy transition. Is this becoming more apparent now with this increasingly diverse workforce?

C:
The graduates who join the company are truly energized by the environmental challenges and climate crisis. They really want to make a difference and do not accept the status quo. I think we need all voices because climate change is not a problem that we can solve with one third or one half of our society. If we want to have a chance of achieving the necessary change, we need a lot of scientists and the entire society involved to help build consensus, and to help to build momentum to change from where we are to where we need to be in a quite dramatically short period of time.


Are women sufficiently represented in the hydrogen industry and energy transition?

C:
The answer to that would have to be no. If we want leadership to reflect our overall community in this area, we need more women. We might not be able to immediately get to 50%, but we can get to a lot more than today. I believe that if we can get more women involved in leadership positions, we could motivate a larger part of the female population to get involved with driving the changes we need to make to achieve our climate targets. A larger part of the population might feel that they had both the opportunity and the obligation to drive change. This would have to be a good thing.

Why is female leadership important in the energy transition?

C:
I think that everyone's voice is important in the energy transition. It is a huge societal problem and a very big change that we need to make. We cannot make that change without involving the whole society - and women make up half of society. Everybody needs to be involved in the debate about what new innovations we can bring and changes we adopt. We cannot leave half of the population out of that discussion and I think women, people with different backgrounds, and minorities bring an essential different perspective on what it takes to make change happen.

How can you as a leader and other leaders in the energy transition help to make that happen?

C:
This is an area where you can make a difference, where your voice is important and where you can make a first-hand impact on society. I think we have to show women and girls of all ages, backgrounds and educations that they can get involved and contribute, which is important and also exciting.
We need people that can build momentum for the necessary change. We need everybody.

What does Air Products do to support female leadership?

C:
We have an active women's support network within Air Products and we have mentorship programs that support women in developing their leadership skills. But if I am really honest, I think those things are great, but they are not the core of what Air Products does. For me, it is the strong culture of belonging, where we try and take things from the perspective of every employee, no matter who they are, that makes the difference. I am not saying everything is perfect in our company, but the ethos is to make everybody feel that they can make a difference and make an impact. As our Chairman always says, you're only as good as the people that you have.

What would be your advice to the next generation of female leaders in the energy sector?

C:
Come and join us! There is a lot to do to move from today's high carbon emitting society to one that is cleaner energy and sustainable without giving up everything that we love, and that's a huge challenge. There will be many obstacles to overcome along the way, but we have to reach our destination. So take this opportunity.
♦
About Caroline:
Caroline Stancell joined Air Products Career Development Programme in 1989 and has held sales and marketing positions of increasing responsibility working in all sectors of the industrial gas business. In 2014, she became Marketing Director for the Europe and Africa Region. With the burgeoning growth potential for hydrogen as an energy source she transitioned to her present role of General Manager Hydrogen for Mobility, Europe and Africa. She holds degrees in Chemical Engineering and Managerial Science from the Massachusetts Institute of Technology and Sloan School of Management.