About 80 percent of the world's total energy consumption comes from fossil fuels*. There is consensus that we must ultimately transition away from a fossil fuel-based energy supply. Concrete steps are now being taken with long-term goals to curb carbon emissions and drive to net-zero by mid-century.
Consumers are adopting technologies that use electricity produced from renewable energy sources like solar and wind energy. An example of this technology shift is the emergence of battery electric cars. Electrification of light-duty transportation is a real and very visible sign of consumer acceptance of the changes that need to be made. But that alone will not be enough to bring the monumental shift needed to decarbonize the world.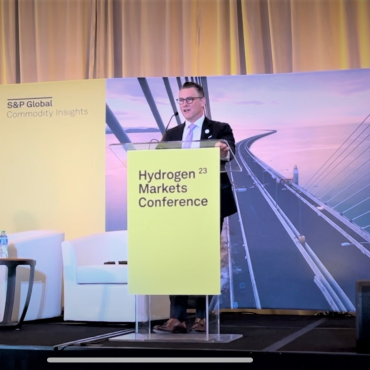 As I said at the S&P Global Hydrogen Markets Americas event, we need to scale clean technologies that also decarbonize heavy-duty transport and industrial sectors to meet our energy transition goals. That's where hydrogen comes in. For hard-to-electrify markets, clean hydrogen is the answer. According to a report from the Hydrogen Council in collaboration with McKinsey & Company**, hydrogen can help reduce global emissions by as much as 20 percent, and producing and transporting it at scale can reduce the cost of the energy transition by $6 trillion USD. This frees up resources to invest in other climate change mitigation actions to speed up the energy transition timeline.

Hydrogen is well-regulated for safety and operations. It's a high functioning competitive marketplace that is cost effective and efficient for end users. And when hydrogen is used as a fuel, the only emissions generated are water vapor. Clean hydrogen is an ideal and proven energy source for heavy-duty trucking and transit buses, aviation and marine transportation. Hydrogen can also play a key role in decarbonizing other markets, such as electrical power generation and industrial applications like steel, glass and cement production where higher heats are necessary.

Much work is already underway. Air Products has committed to invest at least $15 billion dollars by 2027 in clean hydrogen energy projects around the world to spur the energy transition. These projects range from the world's largest green hydrogen project in NEOM, Saudi Arabia, to a multi-billion-dollar clean energy complex in Louisiana that will include the world's largest carbon capture for sequestration project, and to green hydrogen production projects in upstate New York and in Arizona. Real, first-mover projects like these are the cornerstone to building the hydrogen economy and will provide low-carbon intensity hydrogen on a global scale.

We know multiple solutions are required to decarbonize, and a level playing field is critical to deploying them with speed. Every metric ton of carbon dioxide contained or replaced today will have an exponential benefit in the years to come. By producing hydrogen where it is needed and when it is needed from a global supply chain, we can ensure that when a company, state or country decides to make the move to clean hydrogen, they will know they have an available, reliable and safe supply to meet their sustainability goals.

Supportive legislative frameworks around the world are already having a beneficial impact. The key now is for industry and policymakers to focus on demand-generating programs to sustain the legislative and societal momentum. By doing this, we can generate a cleaner future for everyone.

* International - U.S. Energy Information Administration (EIA), 2021 data
**Global Hydrogen Flows, Hydrogen Council / McKinsey & Company, Oct 2022