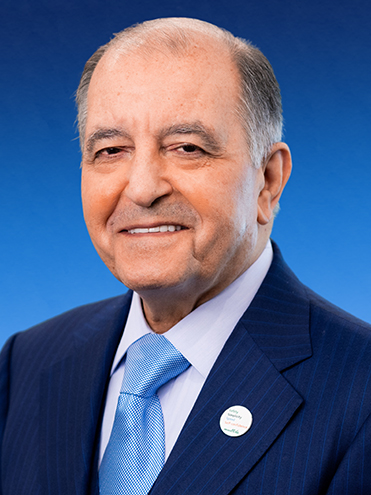 Driving the energy transition to avoid the impacts of climate change, while at the same time enabling global energy security, is one of the most critical issues of our time
.Stronger, more decisive steps must be taken to improve the environment today and the world we leave for future generations. But these steps also must be realistic. The promise of renewable energy and electrification is real, but that alone cannot accommodate all the needs of daily living and our economy while achieving climate goals.

That's where hydrogen comes in.
Hydrogen is the best low carbon solution to address emissions from sectors requiring a high-density energy source - heavy-duty trucks and buses, shipping vessels, steel making or production of chemicals - where electrification is not feasible or practical.
On October 8, we celebrate Hydrogen and Fuel Cell Day, and it is a perfect time to highlight the benefits of what is in many ways the perfect fuel
. Hydrogen is abundant, efficient and produces no emissions when used in a fuel cell.
If the world is truly to move forward with the energy transition and build a cleaner, more sustainable future, hydrogen must play a key role
. Hydrogen produced using hydrocarbons, paired with carbon capture technology, is a natural step to help the world achieve its climate goals. It's a bridge to provide energy in a more sustainable way, using abundant natural resources. At the same time, we should significantly step up activity to produce the ultimate fuel - green hydrogen.
With the game changing improvements made to carbon capture technologies, new blue hydrogen projects can capture and sequester 95 percent of a facility's carbon dioxide (CO2) emissions
. And, when paired with advanced hydrogen technology, it can result in net-zero emissions with the remaining five percent offset by hydrogen fueled electricity.
Critics claim the use of blue hydrogen will delay or discourage a change to clean, renewable green hydrogen.
I wholeheartedly disagree.
We can, and should, use both. Speed is the key to decarbonize our economy. Every metric ton of CO2 contained or replaced today will have an exponential benefit in the years to come. Blue hydrogen will speed the energy transition by quickly building the market with a ready supply allowing companies around the globe the time needed to build the clean hydrogen infrastructure.
As the world's largest producer of hydrogen, Air Products has taken major steps to accelerate the energy transition
. Today there are buses, trucks and other heavy-duty vehicles around the world fueled with hydrogen produced, distributed and supplied by Air Products. We have made an industry-leading commitment of at least $15 billion to clean energy hydrogen megaprojects, including a $4.5 billion clean energy complex in Louisiana to produce low-carbon blue hydrogen. At the same time, we are building a multi-billion dollar facility, by far the world's largest, a green hydrogen production plant, in the northern region of Saudi Arabia called NEOM. The product from this plant will be available to the world in 2026.
These are just two examples of the innovative, world-scale projects needed to make the energy transition a reality
. But it's an issue that is too large for one company, or even one country. Climate change and the energy transition is truly a global issue that demands world-scale answers to address the problem.
The U.S. Government has taken a major step forward by taking a global leadership position and enacting the Inflation Recovery Act and the Infrastructure Investment and Jobs Act
. This forward looking legislation will significantly encourage the production of hydrogen, blue and green, in the United States and sets an example for the rest of the world. But in addition to encouraging supply, steps are urgently needed to encourage consumers to use hydrogen. That is the only way we will really decarbonize the world.
Alongside my peers and government leaders from around the world, I will take part in the Sustainable Energy Council and the U.S. Department of Energy's 2nd Hydrogen Americas Summit in Washington, D.C. on Monday, October 10, to discuss ways to accelerate clean hydrogen projects, policies, and partnerships
. Next week's Hydrogen Americas Summit will keep the conversation going and build momentum leading to the United Nations Climate Change Conference (COP 27) in Egypt, where I am hopeful we will continue to see substantial movement and new commitments to continue to build a cleaner, more sustainable future.
The U.S. Government has provided support to spark increased growth in the hydrogen economy here at home at a time when many are looking to leaders for real action.
Let's seize the moment and move forward.
Let us celebrate Hydrogen and Fuel Cell Day 2023 by showing the world that we have not just talked about creating a cleaner future – but have taken concrete action to make it a reality for everyone.