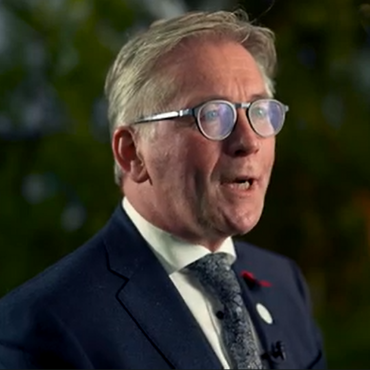 We all agree that transformational changes in energy systems will be required to meet the global community's decarbonization and climate protection commitments.
While direct-use renewable energies are already making major contributions to decarbonization in many places, they are not the sole answer to the problem. Energy carriers like hydrogen offer an additional option for storing and transporting energy while having a low environmental impact. We at Air Products are convinced that green hydrogen from renewable energies in particular will be an important source of sustainable energy value creation in the future.
However, many countries, including developed countries, currently do not have the resources to produce sufficient renewable energy to meet their needs, including the potential production of hydrogen.
The fact that global supply chains are needed is already recognized internationally. For example, the EU Hydrogen Strategy makes explicit reference to the need to deploy electrolysers both within the EU and in neighboring regions and to develop cross-border trade in hydrogen [
1
]. At the same time, many of the importing states are urgently seeking to diversify their energy sourcing as the current crisis has proven that independence from individual energy suppliers is becoming increasingly relevant.
A solution to the energy sourcing crisis that does not undermine progress towards climate objectives
Unlike other energy sources, green hydrogen offers a unique combination. Firstly, it will diversify states' energy portfolios: it will increase importers' options in terms of sourcing energy, thereby reducing dependencies upon individual suppliers. Secondly, it is a breakthrough solution supporting progress towards international climate targets. In my opinion, both perspectives will be crucial for a successful and sustainable energy transition - sustainable in every way the word can be understood.
Although the installed capacity of renewable generators is increasing, many countries (particularly densely populated ones) will be unable to bring forward the renewable energy needed for large-scale production of green hydrogen alongside meeting their future demands for electricity in other sectors. Producing hydrogen and hydrogen-derived fuels in geographies with abundant, reliable renewable energy resources for export to other regions offers a sustainable and reliable solution. This is exactly what Air Products is doing right now. Imported green hydrogen is a useful complement to domestically produced low-carbon hydrogen, and we can see that several countries have started forming strategic alliances in this area. An example that illustrates this are the activities at the Port of Rotterdam which is seeking to establish itself as a major center of hydrogen production and import in Europe [
2
].
Imported green hydrogen offers key advantages as part of a diversified energy strategy.
- Access to excellent renewable energy resources
– Decoupling the location of hydrogen production from demand centers provides the freedom to site production facilities in areas with abundant, highly consistent, low-cost renewable energy resources.
- Reliable, predicable renewable hydrogen supplies
– As a result of the above, imported hydrogen offers consistent, 24/7/365 supplies which domestic production may not be able to match in the near term in the absence of large-scale, low-cost hydrogen storage facilities required to manage the intermittency of local renewables.
- Accelerated deployment
– Project developers can select countries and sites with favorable conditions and few barriers to the deployment of the new renewable electricity generation required for large-scale electrolysers. This offers the dual advantage of accelerating the roll-out of renewable generation capacity and bringing green hydrogen to market at scale rapidly.
- Large-scale energy storage
– Concepts for international shipping of green hydrogen generally involve converting the hydrogen into a form suitable for bulk storage and transport. Large-scale storage of renewable energy will be required in decarbonized energy systems, so the recipients of such products will benefit from a ready-made bulk, long-term storage solution. Furthermore, having access to imported green hydrogen can reduce the costs of deploying hydrogen production and distribution systems locally due to the scale and continuity of the supply offered.
- Energy diversification and reduction of dependencies
– In times of increased global uncertainty, unilateral dependencies on unreliable partners can cause severe economic and social damage. Diversifying energy sources and promoting green hydrogen makes it possible to adjust for the unavailability of individual suppliers and thus make the energy system more stable.
Considering the advantages of green hydrogen for energy systems outlined above, policymakers should reflect on the following recommendations.
- Provide early clarity on policy, regulation, and certification of renewable hydrogen
– For us first movers in the green hydrogen market, regulatory clarity is vital. Stable, long-term regulation will be essential to drive the ramp up of global green hydrogen production. In this regard, the sector will need certification systems and regulations for green hydrogen supply – including a clear definition of "green hydrogen."

- Recognize the role of imports in kick-starting markets for renewable hydrogen
– Green hydrogen will be one of the foundations of fully decarbonized energy systems. We should significantly step up activity to produce renewable hydrogen over the next decade and in addition to encouraging supply, steps are urgently needed to encourage consumers to use hydrogen. As green hydrogen will be needed in meaningful quantities by mid-century, the sector needs to develop now and be ready for accelerated deployment in the post-2030 period.
- Ensure expedited permitting of import terminals
– Speed is of the essence and fast permitting procedures are key for fast infrastructure build up. Currently, six months are envisaged e.g., for permitting state-supported LNG terminals in Germany. The same must be applied to import infrastructure for renewable hydrogen carriers such as ammonia.
- Create a level playing field for imports in terms of financial support
– Imported hydrogen should be treated in the same way as domestically produced fuel in the context of any policies adopted to support market development, including consideration of key issues such as the "additionality" of renewable electricity capacity and the overall carbon intensity of the entire supply chain. Failure to achieve a level playing field and common standards for imported hydrogen would carry the risk of de facto non-tariff barriers, choking off investment in the imports that are now broadly accepted to be essential in many jurisdictions. Specifically, imported renewable energy requires financial support – also for infrastructure - equivalent to domestic production.
Imported green hydrogen: An essential part of the energy transition
Climate change was already one of the greatest challenges the world is facing and current global crises have only added to the urgency to deal with the changing energy landscape. As I have outlined above, green hydrogen offers enormous potential to deal with these challenges, sustainably and - relatively - quickly. However, the successful ramp-up of green hydrogen imports will require immediate and targeted policy action. The moment to act with focus and clarity is now. With the right framework to enable the establishment of global green hydrogen supply chains, I am convinced that together we can work towards stable and sustainable energy systems worldwide.
I am very much looking forward to the insightful discussions at this year's COP.